This page is all about the Greek island Ios where the party goes on around the clock during the summer months.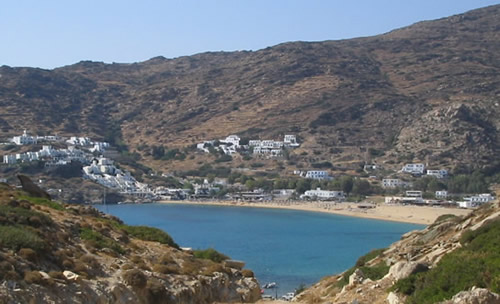 You will find many beautifully beaches on the island of Ios. The most popular one is Mylopotas beach and can bee seen in the picture above. You can join the beach party at Far Out or just relax in the sun on this long beach. You find more information about the beaches of Ios Greece here and maybe you will find your own favorite among all the different beaches on this Greek island.
This small island has many bars and nightclubs all located in the tiny village located above the port. You will see it on the hillside above you as you arrive to the island by ferry. You will be met in the port by many hotel owners and people renting out rooms. They will try to persuade you to stay at their place. This means that you don not have to worry about booking accommodations before arriving on Ios unless you plan to come at the peak of the high season. During most of the season it is no problem finding plenty of rooms to let. The people in port will normally give you a ride to there place if you are interested in staying with them. This means a free ride up to Chora and your are not obligated to stay at there place if you do not like it after arriving. But it is always easier to choose a good place to stay already when you are in the port so that you do not have to spend time going around looking for different accommodations. You can also stay one night at the first place while you look for  better hotels or rooms.
People come to Greece for its beautiful nature, white beaches and blue water. Ios has it all but also offers one of the best party scene in the Mediterranean sea. The island has many different bars and nightclubs that are open all night long. Some do not close until 7 or 8 in the morning. Drinks are cheap and the atmosphere is amazing.